Ok! I am not normally overly dramatic...but OMG! I am about to jump out of my chair and scream! As a matter of fact I did just do a little celebratory dance! Donna, over at
Funky Junk Interiors
, just added my Memory Table to her post that provided my inspiration.
You know that I am blog obsessed. Among the sites that I frequent, FJI is in my top 3Favorites! I am so honored to be noticed! Thanks Funky Junk!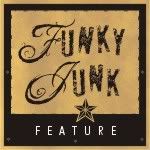 On a side note: Don't forget, to be included in the giveaway you have to be a Follower and leave a comment on this
post
. Thanks for stopping by!